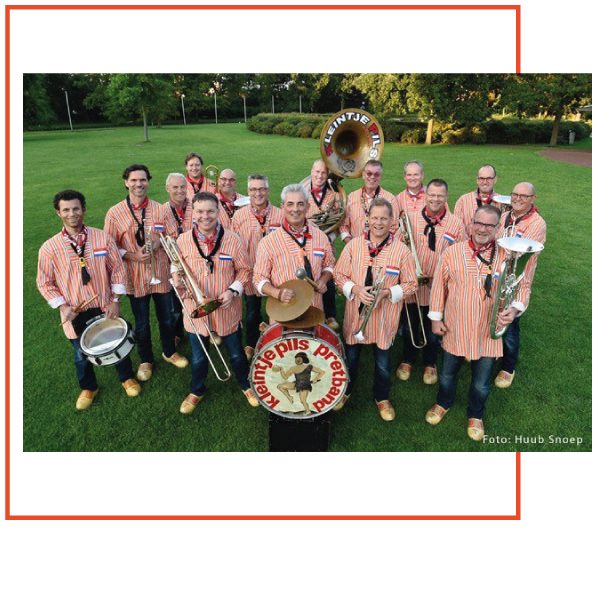 We would like to introduce to you the band Kleintje Pils. A 15 person group of amateur musicians with professional quality, strongly dedicated to the ideals of sports and music.
Since its beginning in 1975 this popular band has established at home and abroad, a reputation that guarantees Dutch quality. With its creative and solid approach and catching enthusiasm Kleintje Pils has won the public's support. Kleintje Pils is a welcome guest at the bigger parties and festivi­ties all over the world. With this fun band we make our appearance throughout the world at all sorts of events, such as sporting events, carnival celebrations, embassies, exhibitions, festivals and fairs.
The national sports band
As mentioned above, Kleintje Pils is a very welcome guest, nationally and internationally. Several times this colourful band played in more than 40 different countries. The band performed and created a great atmosphere at FIFA and UEFA football Championships and, on four occasions, Kleintje Pils appeared before millions of people during the final stages of the Tour de France on the Champs-Elysées in Paris. Kleintje Pils is well known as the national sports band and performed at matches of the Dutch national football team during the European and World Football Champions­hips, with tens of thousands of enthusiastic supporters. Who can forget the games and the homage to our national sportsmen and woman after the Winter- and Summer Olympic Games of Calgary, Albertville, Seoul, Nagano, Sydney, Salt Lake City, Torino, Vancouver, London, Sochi and Pyeongchang. The fun- & brass band Kleintje Pils was present several times at the famous, typically Dutch 'Elfstedentocht', a long-distance ice skating race along eleven towns in Friesland, to inspire the skaters and to ensure a lively atmosphere.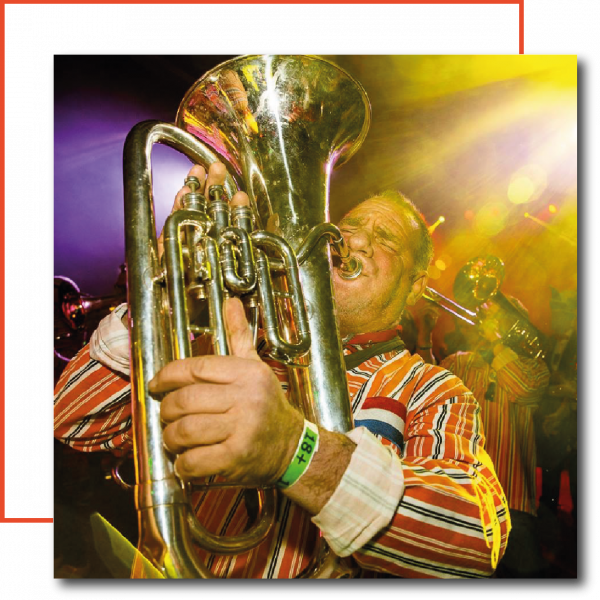 Europe, USA, Japan, China, Canada, Australia, U.A.E.
In 1994 Kleintje Pils thrilled the entire ice-skating rink at the World Speed Ska­ting Champions­hips in Sweden. The same happened for speed skate championships in Baselga (Italy), Inzell (Germany), Warsaw (Poland), Nagano (Japan), Helsinki (Finland), Calgary (Canada) Milwaukee (USA), Hamar (Norway), Budapest (Hungary) Salt Lake City (USA), Torino (Italy) Moscow (Russia) Vancouver (Canada), Berlin (Germany), Stavanger (Norway), Kolomna (Russia) Seoul (Korea) and Sochi (Russia). One of the most successful music trips was undoub­tedly the World Cup USA in 1994, when this popular band perfor­med every day in front of an international audience of many tens of thousands of fans. In 1991 the Nagasaki Holland Village Co. in Japan invited the band Kleintje Pils to perform on behalf of a cultural exchange with regard to the Holland promotion for a six-week period. A unique trip which undoubtedly made a profound impression on the Japanese public. In 1993 this was followed by a new invitation for a two-week Japanese Tour, to perform in the replica of the Dutch city 'Huis Ten Bosch', in the land of the Rising Sun. In 1997 the Japan Skating Federation invited Kleintje Pils to perform in Nagano during the World Speed Skating Champions­hips.

Not only the Organizing Committee but also Japanese TV-stations and international newspapers were impressed about this exiting Dutch band Kleintje Pils. The honourable invitation for performances during the Olympic Winter Games 1998 in Nagano crowns it all. It was great. In Australia Kleintje Pils have had many successful performances during the Olympic Games in Sydney 2000. The band appeared on the St. Peters Square in front of the Pope John Paul II in Rome, during the celebration of the Holy Year 2000 and in 2017 for Pope Francis. Kleintje Pils performed at the celebrations of our National Day in Dubai and Abu Dhabi in the United Arab Emirates, but also in Uganda, Latvia, Istanbul, Jakarta and Mumbai. In 2018 and in 2019 Kleintje Pils performed in the wonderful Holland Flower Park in Dafeng China. The band was honoured guest at all winter Olympics since 1998 where Kleintje Pils performed every day for many tens of thousands enthusiastic spectators at several parts of the Games.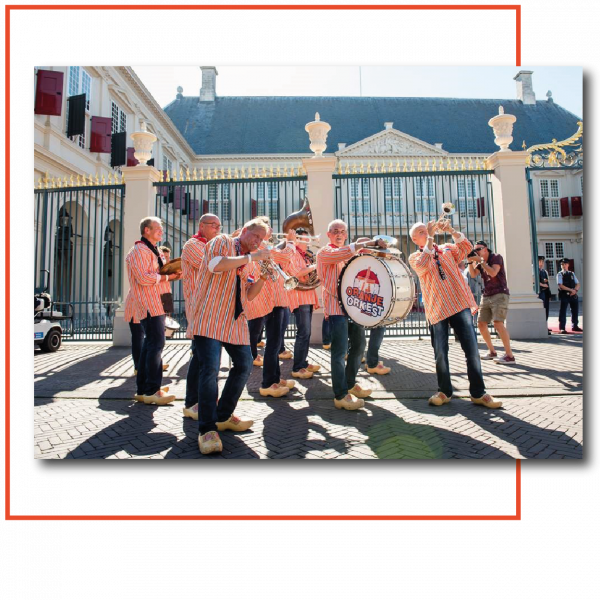 Radio and Television
In spite of the fact that its music actually should be heard live, a number of songs have been recorded on compact disc at the request of many. Kleintje Pils is also famous for its performances on radio and television. Several times, this fun band participated in media activities, such as many famous TV-programs and sports programs. In view of the many positive reactions Kleintje Pils is probably the most popular fun band of the Netherlands.
The 'Royal' band
We are proud to let you know that in 1997 the band Kleintje Pils has been decorated and honoured by her Majesty the Queen of the Netherlands, for its positive image in sports and its function as musical ambassador and representative of Holland Promotion and as well in 2002 for the Royal Wedding and in 2013 by his Highness the King of the Netherlands at his Crowning Day.
Typically Dutch
Kleintje Pils appeals to any public, as a typically Dutch band in traditional, colourful folklore clothing, including the famous wooden shoes. The band will keep the audience enthralled and guarantees an excellent atmosp­here. Kleintje Pils is a pastime that has got out of hand and resulted in a great fun band of worldly fame, in which the musicians play with great pleasure. Music is our party, you'll be surprised.